"Vigorous writing is concise. A sentence should contain no unnecessary words, a paragraph no unnecessary sentences, for the same reason that a drawing should have no unnecessary lines and a machine no unnecessary parts. This requires not that the writer make all his sentences short, or avoid all detail and treat subjects only in outline, but that every word tell."
–William Strunk, The Elements of Style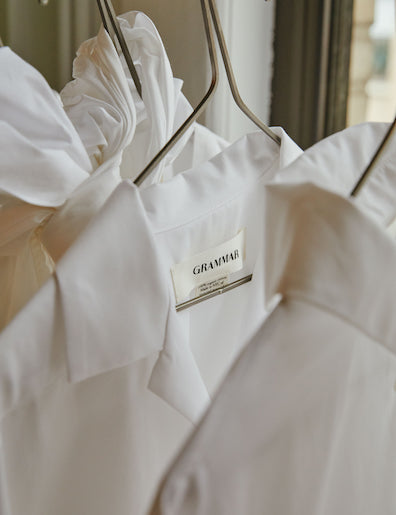 Inspired by The Elements of Style by William Strunk, Jr. & E.B. White., GRAMMAR creates foundational elements of a modern minimalist wardrobe.
Essential

A crisp white shirt is an iconic wardrobe staple, and a necessity in any wardrobe. Each garment we make  serves a distinct purpose and has a unique personality.

Love

We exist to make women feel good, Each style is designed with an appreciation for a woman's form and the functionality required of a garment for her every  day, so that she can pursue her life with ease and purpose.

Commitment to Excellence

We pursue beauty through an unrelenting commitment to product quality and the design process. Everything we do comes from our respect for taking on challenges that are difficult but worthy.
Our Process
Elegant garments that stand up to the highest standards of design and sustainability
Design
We believe in prioritizing conscious practice and design through every stage of our product lifecycle. We believe that beauty lies within the individual; our clothing is comfortable and elegant, allowing your inner beauty to shine through. Our form of luxury is made to be felt and embodied. GRAMMAR shirts are made from 100% organic cotton sourced from an ethical producer in India. We choose organic cotton because it is produced without the user of pesticides and other toxic chemicals that can be absorbed through the skin and are known to harm the natural environment and cause illness and death in textile workers.
TIMELESS DESIGN: garments that never go out of style
IMPECCABLE QUALITY: made to last for generations
Production
We believe in supporting the excellent local artisans and craftspeople and women-and minority-owned businesses in New York City. There is nothing more rewarding than seeing our garments come together at the hands of our friends and collaborators. By producing locally in small batches, we are able to minimize the impact of our supply chain and ensure that our extremely high quality standards are met on each and every garment. When sourcing our organic cotton fabric, we require GOTS (Global Organic Textile Standard) certification, which ensures compliance with the strictest standards of sustainability and labor rights from seed to finished fabric.
GOTS-CERTIFIED ORGANIC COTTON: reduced health and ecological impacts of textile production
FAIR LABOR: local production and GOTS certification ensure fair wages and working conditions
The Designer
Althea Simons, Founder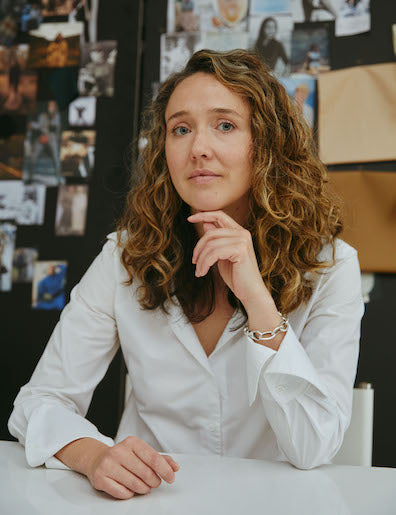 The catalyst for starting GRAMMAR came out of misfortune. In early 2016,  Althea's apartment building burned down and she lost all of her belongings. The difficulty she felt trying to replace her wardrobe led her to conclude that the perfect garments for her life did not yet exist. A fan of iconic wardrobe essentials, Althea decided to apply her eye for detail and nuance to the challenge of creating the perfect white shirt.